Cofounder and artistic director of Impro Infini and SUBITO, international impro Festival in Bretagne, Franck BuzZ has been improvising since 1994.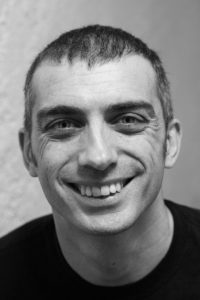 He enjoys playing free and organic improvisation and he likes to mix languages and cultural differences.
As a former light designer, he has created the innovative format « Impro LightboX » in which lighting atmospheres are the starting point of each new scene. « Impro
LightboX
» won a jury's Trophy at the Impronale Festival in Halle (Germany) in 2015 and has been played in more than 10 different countries (Europe, Dubai, Australia …).
He has also created numerous formats : « All Blind » about visual impairment and blindness, « Confidences sur Canapé » with famous guests interviewed, « La Pincée de S.E.L
» about big and little stories from small villages, « Le grand 8 » and « Shut up Pouic Pouic » organic shows…
Franck has been invited to perform and/or to teach in many places. In France of course, but also Marocco and Wurzburg Festival 2013, Berlin IMPRO Festival 2014, Roma Welcom
e Fe
stival 2014, Seattle UP Festival 2014, Milano Mitico 2015, Halle Impronale 2015, Leuven Improovelicious 2016, Tampere FIIF 2016, Nancy Semaine de l'Impro 2016, Göteborg Improfest 2016, Torino Istantaneo 2016, Halle Impronale 2016, Lyon Improvidence 2016, Piombino WIP 2017, Portugal Espontaneo 2017, Switzerland Shiink 2017, Dubai ITI conference 2017, Australia Improvention 2017 and many more …