Fabio is part of the Milan professional company "Teatribù", as a performing and also head of pedagogy.
Professor at the University of Milan, he manages the impro workshop for the students in Educational Sciences.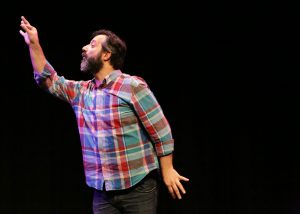 These last years he has been studying vocal improvisation, which feeds his passion for impro theater and vice versa. His artistic "parents" are the Commedia dell'Arte and Mime.
His passions are music and danse. He travels the world (from Australia to Colombia) to teach and share impro.
His show "Eau d'Impro" has been performed in Barcelona, Amsterdam, Besançon and Bogotà.